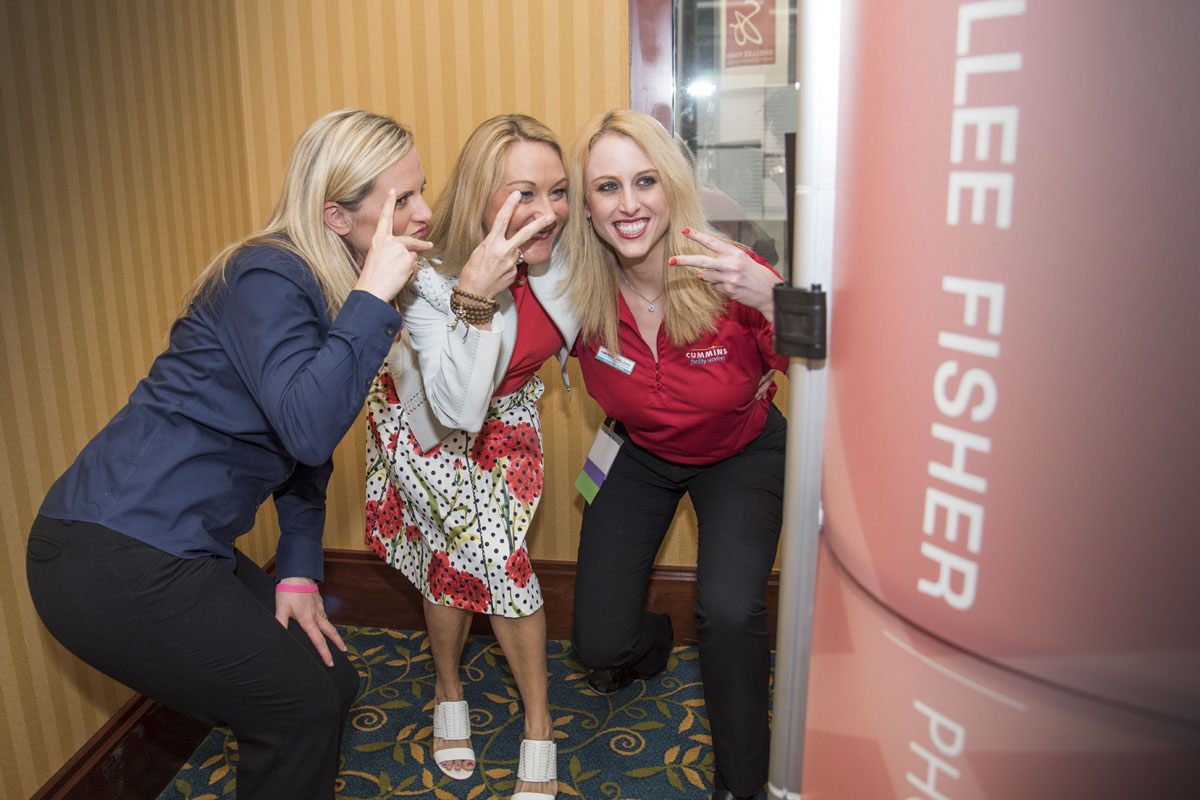 06 Nov

Photo Booths in Columbus, Ohio

Are you looking for a photographer to capture the special moments of your next event? Have you considered using a photo booth at the event?  Whether it's a corporate event, industry conference, company retreat, groundbreaking ceremony, political fundraiser, or even a cocktail party, Shellee Fisher is the premier event photographer and photo booth provider in Columbus, Ohio.

By selecting her as your event's photographer or photo booth provider, you will be making a worthwhile investment in both the occasion and your brand given her creativity, attention to detail, experience, professionalism, and ability to capture the most important moments of your event. Read on to learn why Shellee Fisher Photography and Design is the best choice in Columbus, Ohio for your event photography and photo booth needs.

Contact Shellee Fisher      View Gallery
A photo booth for your Columbus, Ohio event
Does your upcoming event need a photo booth? The answer is yes. Photo booths are always a hit at any event. In this age of social distancing, photo booths can even be used to capture your virtual event. The best Columbus, Ohio event organizers understand the benefits of having photo booths at their events.
It's the perfect way to market your brand. Most photo booths can be quite customizable. You can brand their physical appearance, the touchscreen interface, and even the photos. Not only will your brand be present at your event, but your guests will take it home with them. It's the perfect way to showcase your brand.
Have fun while building your database. Some photo booths can directly impact your marketing and sales efforts. You can run contests, survey your guests, and collect email addresses, phone numbers and other information right from the booth. Not just for fun now, are they?
Promotes team building. Having fun in teams is one of the best ways to create strong bonds among team members. Photo booths are fun, and people love the photos they get to take home to share with their loved ones.
A great way to make your event more memorable. Events often come with food and maybe some entertainment. A photo booth can provide that extra touch to make your event even more memorable.
A photo booth is a great icebreaker
Use the images to enhance your social media presence. Photo booths with social media capabilities can be utilized to enhance your social media presence. A photo booth can post the photos to various social media platforms with a predefined hashtag. That's the perfect way to engage your guests and increase your digital presence.
A virtual photo booth for your Columbus, Ohio event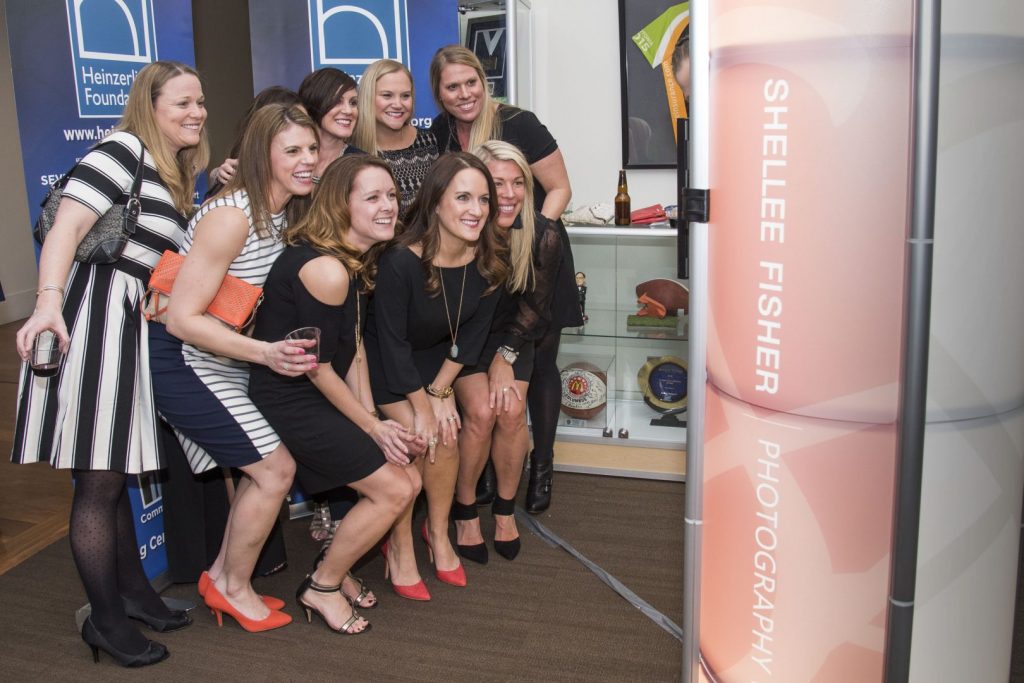 You can even take advantage of a photo booth at your virtual event. Photo booths are always great fun at any event.  Don't let social distancing put a stop to the fun. Now, you can create your own customizable photo booth and your guests will have a unique experience to remember. You and your guests will receive a fully branded experience from any device, from anywhere, and no app is needed.
Features of a virtual photo booth
Allows guests to take Still, GIF's or Bursts (boomerangs)
Approve photos before they are uploaded to your microsite
Password protect your galleries and experiences
Capture emails and phone numbers
Customize an online gallery with all the photos from your event
Share to your favorite social platforms via online galleries
Translate the experience for any language or adds instructions on each page of the experience
A photo booth will be a hit at your Columbus, Ohio event
How often have you relied upon a friend and their phone to capture a special moment? The image quality was poor, and the photograph couldn't be used for any promotional or social media purposes. Despite their best intentions, your friend was not able to produce a photograph you could use. Entrusting a photography and design professional equipped with a photo booth at your special Columbus, Ohio event is the only way to ensure that you'll have high quality images taken in a fun setting to mark the occasion.
Professional photographers are an integral part of the success of those events. A photography and design professional will use the best photo booth equipment and has the requisite experience and necessary skill to produce high quality images that will beautifully preserve the memory of the occasion while simultaneously serving to promote the event's purpose or an organization's brand. Shellee Fisher Photography & Design is the Columbus, Ohio event photographer photo booth provider of choice.
What to look for in a photo booth provider in Columbus, Ohio
Choosing a photo booth provider in Columbus, Ohio can be overwhelming. There are so many companies, features, and booths from which to choose. How can you possibly narrow them down? One thing is for certain, you want to work with a professional who is an expert at both photography and design and is capable of producing the results you are looking for with your photo booth experience. As with hiring any professional, there are several considerations to keep in mind when evaluating your event photography and photo booth options. Shellee Fisher Photography and Design is your best choice for an event photographer and photo booth provider in Columbus, Ohio. Get to know her work, review her portfolio, ask for her references, and be sure to communicate your needs to her. Here are some considerations to keep in mind when selecting your next Columbus, Ohio event photographer and photo booth provider.
Understand what photo booth options are available
A professional photo booth provider will have a variety of photo booth props, backdrops and prints to make your event truly special. You will want to work with a design professional with a keen eye who will be able to capture the moment of your event by providing you a memorable photo booth backdrop. There is a big difference between working with an unskilled vendor versus a professional who takes the time to invest in high-quality, professional photo booths. A truly professional photo booth provider will have a variety of different photo booth options for every kind of client and event.
Confirm your specific needs for having the photo booth at your Columbus, Ohio event
It is necessary to let your photo booth provider know the intended use for the photographs you receive from your photo booth. Many events that feature a photo booth use the photographs simply to provide a memento. Other events have a more specific use for the photographs. The photographs may be used in marketing or in promotional materials and be published on social media platforms. The specific use of the photograph will often dictate the backdrop for the photo booth.
Ask for a list of everything that is included with your photo booth for your Columbus, Ohio event
Again, it's best to ask your photo booth provider exactly what the quoted price includes. You'll need to create a budget to ensure your photography and photo booth needs can be met within the constraints of that budget.
How many hours of service?
Is setup/tear down included?
Will the provider bring props and a prop table?
Does it include a backdrop?
Will you get copies of all the photos taken?
Request a list of photo booth features
The photo booths of today are quite a bit different than what they were even a few years ago.  Many photo booths offer different sized prints, digital images, social media options, video messaging, and virtual photo booth experiences. For instance, if you are looking for a photo booth that makes animated GIFs,  you will want to be sure your provider includes that as an option. It is your event – don't hesitate to communicate your needs.
Know that your photo booth will be producing high quality photographs
Whether it is a virtual or live event, you need to be confident your provider is going to deliver a finished product that meets your specific needs. No one wants to pay for a photo booth and receive low quality prints.  When choosing a company to work with, it is best to utilize the services of a professional photographer who not only is committed to providing you the equipment you need to make your photo booth a success but will also produce high quality photographs that can be used to memorialize your special day.
Confirm the photo booth will have an attendant
Of course, even if a photo booth works perfectly, it won't be any good to your guests if they can't figure out how to use it. Hire a photo booth provider only if they provide an attendant with the rental. Photo booth equipment is sensitive and expensive so it is best to leave its care to the professionals.
Make certain your venue can accommodate a photo booth
A small historic venue with narrow doorways and staircases will eliminate some photo booth options. Likewise, an  outdoor venue can be limiting. Be sure to go over the details with your photo booth provider to avoid any hiccups on the day of your event.
Look through your provider's portfolio and ask for references
Get references from your photo booth provider. You will want to take a look at your photo booth provider's portfolio to make sure they capture photographs in a way that's consistent with the purpose for your event. Shellee Fisher Photography & Design is happy to provide you both access to her portfolio and her references from an array of Columbus, Ohio photo booth event clients.
Read online reviews
Ask friends and family members for recommendations, but also read the company's reviews on their social media pages and sites like Google and Yelp. Any company who isn't forthcoming about their reviews is probably one you don't want to work with.
Frequently Asked Questions about Shellee Photography
[hrf_faqs]